For over 20 years, DESiGNER Kitchens and Baths has been creating cutting-edge and award-winning kitchen and baths designs throughout Hawaii. Producing a body of work as energetic and inspired as the islands she works on, owner and designer Judy Dawson, CKD, has spent her career exploring the dynamic relationship between art and architecture. Blending artistic vision with a firm foundation in architecture, construction, and installation, Judy confidently brings her knowledge and understanding to the design process.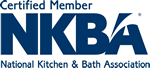 Collaboration and teamwork are the keys to the success of DESiGNER Kitchens and Baths, and clients are able to rely on the innovative energies of both Judy and designer/draftsperson, J.R. Ludlow, AKBD, to illuminate the technical and creative complexities of the overall design scheme.
With resourceful skills and imaginative vision, DESiGNER Kitchens and Baths will transform and transcend your space and bring your design dreams to life.
"The details are not the details.
They make the design."
- Charles Eames